Fancy a week including 6 days paddling for intermediates in sunshine with good food at affordable prices?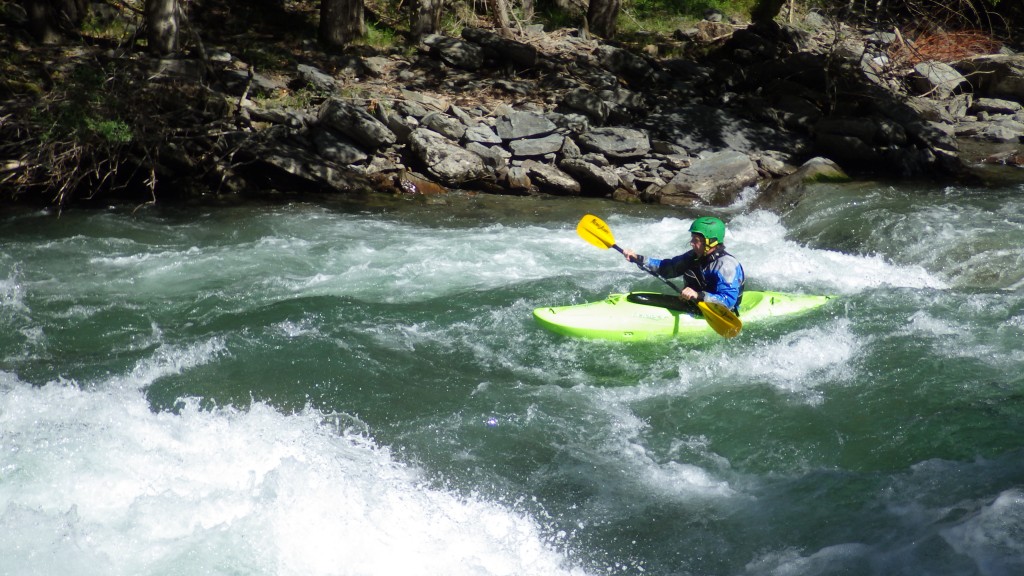 In our Evolution week we will aim to improve your river running in a measured way. We'll be looking to move you from being a grade 3 paddler by giving you the tools you'll need to tackle grade 4 white water with technical aplomb.
The Riu Noguera Pallaresa in Spain's Catalan Pyrenees is a delight. With well over 50km of clear white water to choose from we have an abundance of different sections to work on. Some sections of rapids are pool-drop in character giving a user friendly coaching environment. Other sections allow us to test our learning on longer, more alpine style rapids making this area a perfect venue for learning how to take on consistent white water.
Accommodation will be in self-catering bungalows on a campsite in Ribera de Cardos. This is in a beautiful valley, a 10 minute drive from the Town of Llavorsi on the banks of the Noguera Pallaresa. The campsite has many facilities including a restaurant with a bar, crazy golf and a swimming pool.
If you like the sound of this then come for a week, pick up from Bareclona El Prat airport on Saturday 23rd June, drop off Sat 30th June (2018).
The price of this week is £950.
This includes:
Professional coaching, with a safety ratio of 1:3 for 6 days, on the Noguerra Pallaresa.
Airport transfer from Barcelona El Prat, pick up on Sat 23rd June, drop off Sat 30th June (2018).
All transport within the paddling week.
Accommodation in chalet style bungalows in picturesque Ribera De Cardos.
Meals – breakfasts will be provided as will 4 evening meals when we dine in.
Whats not included:
Return Flights
There is the opportunity to hire kayaks out there should you not wish to travel with your own (20euro per day).
Lunches
Dining Out
Drinks
Sport-Travel Insurance
What you can expect from the week:
We will spend the first day getting to know how you paddle and then create a plan for the week both for your individual and the group's needs to make sure that you get the most out of your paddling week.
If you are interested please let me know either via info@brucejolliffe.com or via the contact form.