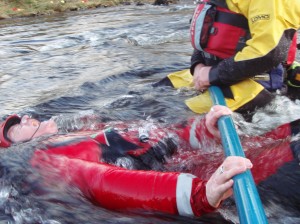 White Water Safety and Rescue (WWSR for short) is key for budding White Water Paddlers. If you want to learn how to safely negotiate class 2 – 3 rapids, calm in the knowledge that you can look after you and your buddies:
The WWSR course will give you the fundamentals that you might not yet know that you need.
You'll learn all about safe river running strategies, communication in a dynamic environment and several other techniques that put the emphasis on avoiding problems before they occur.
This being the real world, you'll also learn about how to pick up the pieces quickly and effectively when it goes a bit wobbly. Good throwbag work and recovery of equipment will be looked at as well as the all important ability to swim and wade safely in the river. 
This is a BC endorsed course. If you would like a more 'in-depth' look at what's covered click here. (Link may work as a download in some browsers).
Next open course dates: TBC.
To enquire about WWSR Courses you can use the contact form or email info@brucejolliffe.com.
Alternatively you can also buy the multiple award winning White Water Safety DVD to have this information and more at your disposal forever.